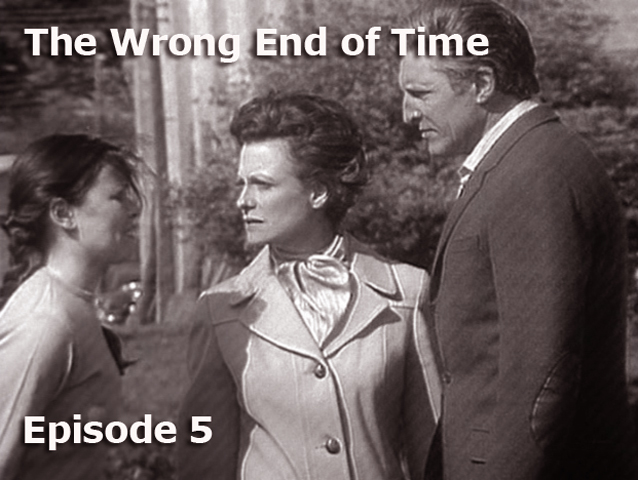 Production Notes
The TVTimes synopsis paraphrases one of Commander Traynor's lines in the episode.
The Part Two caption appears overlaid over a shot of the 'empty' radar room.
When Liz discovers and re-enters the time barrier in the second half, there is no sound effect.
When Jean looks out of the window at the Bull Inn, we can see the disused research station pictured on the backdrop. This happens in the following episode as well.
When Jean approaches the time barrier, you can see her mark to stop on the ground.
TVTimes Synopsis
"Commander Traynor decides to re-assume command of the station – the hard way."
Cast & Crew

Cheryl Burfield (Liz Skinner)
Spencer Banks (Simon Randall)
Denis Quilley (Traynor)
Iris Russell (Jean Skinner)
Derek Benfield (Skinner)
John Alkin (Frank)
Sandor Eles (Gottfried)
Paul Humpoletz (Graz)
Hilary Minster (Fritz)
Royston Tickner (George Bradley)
Written by Bruce Stewart
Script Editor Ruth Boswell
Scientific Advisor Geoffrey Hoyle
Designer Gerry Roberts
Producer John Cooper
(Director John Cooper: uncredited)
Original Broadcast
ATV Midlands – 5:15pm Monday 26th October 1970
London – 17.15  Friday 30th October 1970