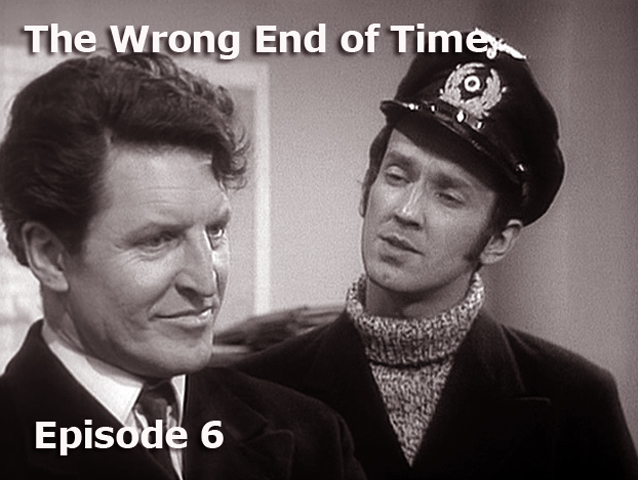 Production Notes
Jean's scene where Frank and Traynor discover her unconscious by the time barrier was shot on the studio set.
Traynor calls the brain an organism when he really means an organ.
The part two caption is overlaid over a shot of the ruby on Traynor's desk.
In the final scene, Liz and Simon are chromakeyed onto a photo of the ice field set.
TVTimes Synopsis
"In 1970 Jean faints with terror at seeing her child shot. In 1940, Simon tries to explain to a mystified Gottfried that Liz's wound is self-induced but Gottfried's time at the base is drawing to a close. He has to return to Germany, if possible with Commander Traynor."
Cast & Crew

Cheryl Burfield (Liz Skinner)
Spencer Banks (Simon Randall)
Denis Quilley (Traynor)
Iris Russell (Jean Skinner)
Derek Benfield (Skinner)
John Alkin (Frank)
Sandor Eles (Gottfried)
Paul Humpoletz (Graz)
Hilary Minster (Fritz)
Royston Tickner (George Bradley)
Written by Bruce Stewart
Script Editor Ruth Boswell
Scientific Advisor Geoffrey Hoyle
Designer Gerry Roberts
Producer John Cooper
(Director John Cooper: uncredited)
Original Broadcast
ATV Midlands  17.15  Monday 2nd November 1970
London  17.15  Friday 6th November 1970