The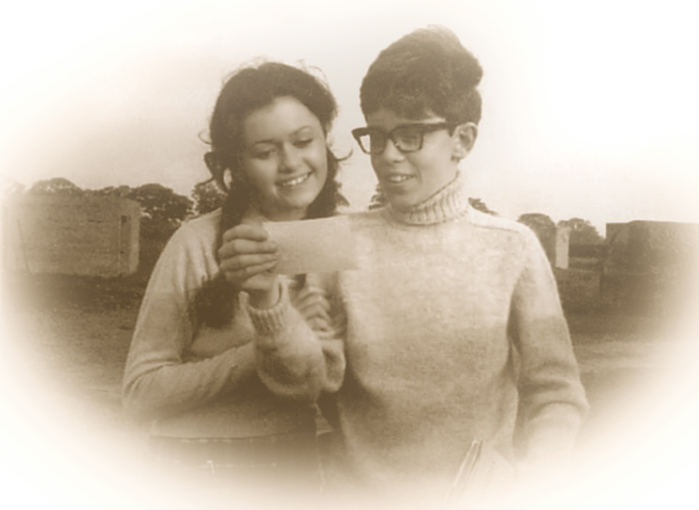 serial will always remain something very special to me. It was my first major role, having only one previous credit prior to 'Timeslip' – 'Germinal' a BBC 2 classic serial made in 1969. I can still vividly recollect my audition, meeting producer John Cooper and casting director Monty Lyon at ATV's offices in Birmingham, one very cold and snowy February morning in 1970. Whilst waiting to hear if I was to be cast the serials length doubled from 13 to 26 weeks.
The six months spent at ATV's Borehamwood studios (Now BBC Elstree) started in May 1970. Cheryl Burfield and I became firm friends from day one. We recognised what a fantastic opportunity Timeslip was and were determined to give it everything we could offer.
Working with many seasoned professionals; including Denis Quilley, Derek Benfield, Iris Russell, John Barron and Sandor Eles was a tremendous experience. It was genuinely a very happy show to work on and when the time came for various members to leave it was like saying goodbye to a member of the family!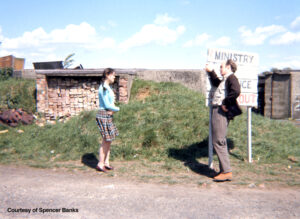 There are many stories that come to mind – things not going quite according to plan when shooting, working against the clock when studio time was evaporating before our eyes and the more-than-occasional joke or wind-up. During the first six episodes 'The Wrong End of Time', whilst recording a sequence where we strike back at the German Raiding Party who have taken over the Radar Station in 1940, as Simon I had to stun Gratz (played by Paul Humpoletz) with a bottle. Well, the bottle had to be a prop special made of brittle wax, however, under the heat of the studio lights it became pliable and during one take as I brought it crashing on his head it just bent and failed to shatter. Take two, as I picked the bottle up it broke at the neck and I attacked the German trooper with thin air! We eventually got the take but not before some moments of laughter – the sort of thing that `It'll Be Alright on the Night' would have loved!
T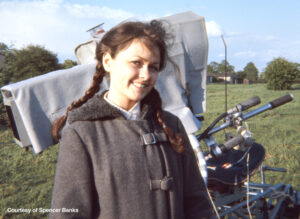 he character I played, Simon, was supposed to be something of a junior boffin. Not long after rehearsals started I was duly marched off to an opticians to be fitted for a pair of glasses – to help make me look `studious' (in John Cooper's words). They were very unstylish brown tortoise shell frames with plain glass. It was to be many years later before I actually needed real glasses.
As I was completely fascinated by all the technical aspects of TV production my enthusiasm led to me being nicknamed `Joe 90′ by the crew. Often there would be the send up comment of "Oh Spence, camera 4 has just gone down, just pop over and sort it out would you?"
The many groundbreaking ideas developed in the Timeslip story, most of which are second nature to us now, were numerous – cloning, environmental damage from scientific interference, internet technology, virtual reality technology, meeting future projections of our characters and many more.
The gre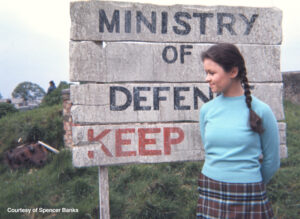 at strength of Timeslip was in the story development and the writing team of Bruce Stewart, Victor Pemberton and script editor, Ruth Boswell. It was the characters that people latched onto and the fact that although scheduled as a children's programme it did not patronise its audience and won a large and varied following. It was a 'one off' and remained special for that reason. No, they don't make them like that anymore and its more the pity! Yes, viewed today some of the production values will seem a little tame compared to the 'Star Wars' screen technology of the 21st century – but the story remains exciting and interesting.
Both Cheryl and I would look forward to receiving the latest batch of scripts as the weeks progressed. We both learned and gained enormous experience from the regular cast and directors, John Cooper, Peter Jeffries, Ron Francis and David Foster, shared many funny times, exciting times and sad times – when a particular story block was over and people moved on to the next job. Cheryl and I have remained the very closest of friends over thirty-two years. We are Godparents to our respective children and her husband was best man at my wedding.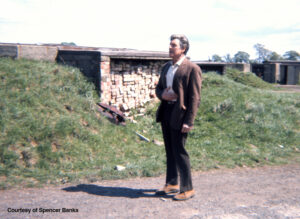 The locations were exotic! The time barrier being a field in the wilds of Cuffley, Hertfordshire, `The Year of the Burn Up' climax was shot at gravel pits near Shenley, Herts, and some of the 'hospital' grounds in the 1970 and 1965 flashbacks were in fact the studio back lot!
As I mentioned before, the anecdotes are many! I can remember being very much in awe of John Barron (who played Deveraux the Ice Box's director of research). His character was one to be feared and wary of; the actor however, was warm, kind and always humorous. Whilst working on a scene where Deveraux suffered one of many unexplained blackouts, I became so engrossed in watching him that when he snapped out of it I literally jumped with fright. I remember director Peter Jeffries commenting after a scene, "Yes Spence, you captured the feeling of being up in front of the headmaster and nervous" – I thought to myself … who's acting??
The water filled creek that featured in the jungle episodes of 'The Year of the Burn Up' was not without its problems. This was the time barrier point of entrance into future England. Trouble was, it leaked! On more than one studio day we arrived to scenes of the prop and scenery crew baling out a flooded studio floor.
Both Cheryl and I wer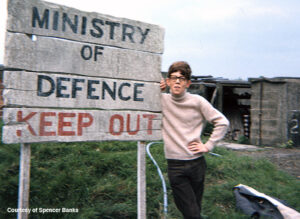 e able to develop the opportunities of allowing the characters of Liz and Simon to be arguing one minute and watching out for each other the next. I particularly loved the scene at Liz's home, having returned from the Ice Box, where a discussion about what to do that day ended in bickering match where Liz appalled by Simon's suggestion of going to the cinema to watch the latest Jean-Luc Godard movie was greeted by the ultimate put-down "What? Go to the cinema? And see a film in French… with you??"
There were many more favourites, confrontations with Commander Traynor (Denis Quilley) both the real Traynor and his clone, the banter with Controller 2957 brilliantly played by David Graham (Simon's future projected self in 'The Year of the Burn Up').
In summary Timeslip was a very special time. It produced a body of work that is still remembered, has provoked many happy memories and produced a life-long friendship. I will always remain proud of our contribution to the programme and always grateful to John Cooper and ATV for offering me such a unique experience.
Spencer Banks (2002)
The photographs accompanying this article are copyright to Spencer Banks and used with his permission.