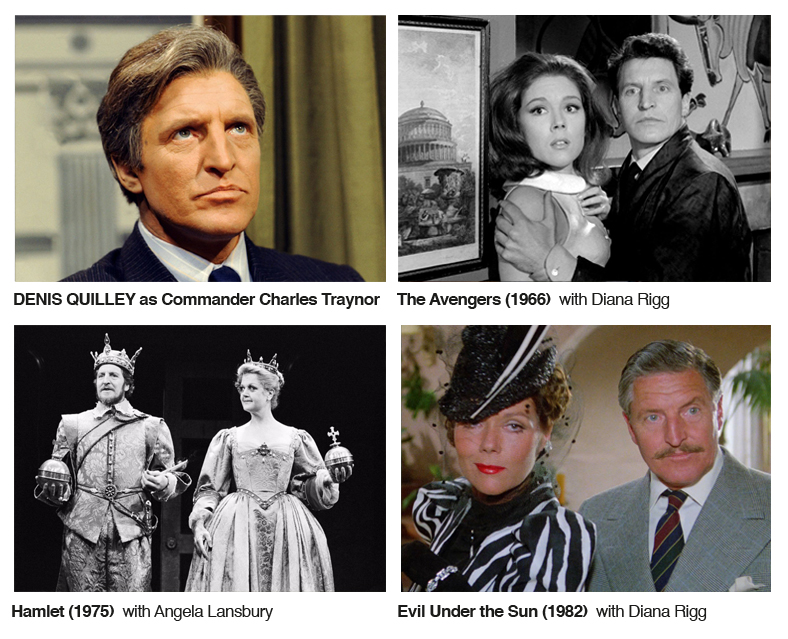 During the last war, Commander Charles Traynor was in command of the Naval Station at St. Oswald. He has an extensive scientific background with qualifications in physics and biology to his name.
Traynor is a complex character with many facets; a charming, urbane but ultimately ruthless individual who cares little for those he manipulates and for the implications of his actions.
He is not actually immoral but certainly amoral in his use of Simon and Liz abilities to fuel his thirst for scientific progress.
Denis Quilley was born in Islington, London. He was always deeply interested in acting and singing and took a day off school to audition for Sir Barry Jackson at Birmingham Rep. and was taken on as A.S.M and understudy at the age of seventeen. The director of the season was twenty-year-old Peter Brook and the leading man Paul Scofield.
Denis went on to The Globe for Gielgud's production of "The Lady Is Not For Burning" followed by a tour of Italy with the Old Vic Company in "Twelfth Night", "The Merchant Of Venice" and the lead in "The Black Arrow". After this he went into Anouilh's "Point Of Departure" at the Duke Of York's playing Matyas.
A repertory season at Nottingham followed where he played a variety of leading roles in "Lady Windermere's Fan", "Major Barbara", "Colombe", "R.U.R", "The Doll's House", "The Tempest" and many more.
Early television parts included a regular role on the largely forgotten BBC science fiction series "Undermind" as Professor Randolph before becoming familiar to children as the duplicitous Commander Traynor in Timeslip.
A succession of West End plays and musicals followed, including "A Girl Called Jo" at the Piccadilly, Bernstein's "Candide" at the Saville, "Irma La Douce" at the Lyric Theatre (and in New York and USA for over a year), "The Boys From Syracuse" at Druary Lane and "High Spirits" at The Savoy (the musical version of Coward's "Blithe Spirit").
He joined the National Theatre Company starring in such shows as "Front Page", "Long Day's Journey Into Night " (also the television version), "Macbeth" (taking over from Anthony Hopkins), "School For Scandal" etc.
Since leaving The National Theatre, he has starred opposite Deborah Kerr in "Candida" at The New Theatre. Starring in "Privates On Parade" both at the R.S.C and later at The Piccadilly Theatre, he won the Society of West End Theatres Award for Comedy Performance of the Year. He also starred in "Deathtrap" at the Garrick and "Sweeney Todd" at The Theatre Royal, Druary Lane for which he won another SWET Award for Best Performer in a Musical.
His films include "Murder On The Orient Express", "Evil Under The Sun" with Peter Ustinov and he co-stared in the film version of "Privates On Parade" with John Cleese. He played King David in a television epic entitled "A.D" and other most recent films include "Foreign Bodies", "Mr Johnson" and "The Shell Seekers".
His recent theatre work includes "La Cage Aux Folles" at the Palladium, "The White Devil" and "School For Scandal" for the National Theatre, "Venus Observed" and "She Stoops To Conquer" at the Chichester Festival, Peter Shaffer's "Royal Hunt Of The Sun" and his one man show "Best Of Times". He appeared on the West End in 1997 in Waiting for Godot as Pozzo.
He continues his stage work and appearances on television are few but memorable in recent years… He even popped up on several occasions in the BBC's Saturday night entertainment fest, "Noel's House Party." In 2000, Denis was awarded an O.B.E.
Denis Quilley died in 2003 shortly after completing work on his autobiography. Entitled "Happiness Indeed – An Actor's Life" it was published posthumously in 2004 by Oberon Books.
Film work includes:
Life at the Top (1965) as Ben
Anne of the Thousand Days (1969) as Weston
Murder on the Orient Express (1974) as Foscarelli
Black Windmill, The (1974) as Bateson
Privates on Parade (1982) as Acting Captain Terri Dennis
Evil Under the Sun (1982) as Captain Kenneth Marshall
Memed My Hawk (1984) as Rejeb
King David (1985) as Samuel
Foreign Body (1986) as Prime Minister
Mister Johnson (1990) as Bulteen
Storia di una capinera [aka. Sparrow] (1993) as Baron Cesaro
TV work includes:
The Merchant of Venice as Bassanio (1955)
The Vise – "Return to Danger" as Wilton (1957)
The Vise – "Cry Wolf" as Minter (1957)
Undermind (series) as Professor Val Randolph (1965)
The Man in Room 17 – "Black Anniversary" as Huston (1965)
The Avengers – "What the Butler Saw" as Group Captain 'George' Miles (1966)
Contrabandits (series) (1967)
Timeslip (series) as Commander Charles Traynor (1970)
Long Day's Journey Into Night as James 'Jamie' Tyrone, Jr. (1973)
In This House of Bede as Sir Richard (1975)
Clayhanger (series) as George Cannon (1976)
The Crucible as Reverend Hale (1980)
Masada (mini series) as General Marcus Quadratus (1981)
A.D. – Anno Domini (mini series) as Peter (1985)
The Return of Sherlock Holmes – "The Devil's Foot" as Dr Leon Sterndale (1988)
The Shell Seekers as Cosmo (1989)
Cassidy as Marius Melville (1989)
A Dangerous Man – Lawrence After Arabia as Lord Curzon (1990)
Rich Tea and Sympathy (series) as George Rudge (1991)
The Marriage of Figaro (mini series) as Bartolo (1995)
Cleopatra (mini-series) as Negotiator Senator (1999)
Sir Bernard's Stately Homes – "Browning Abbey" as archbishop (1999)
Larry and Vivien – The Oliviers in Love (2001)