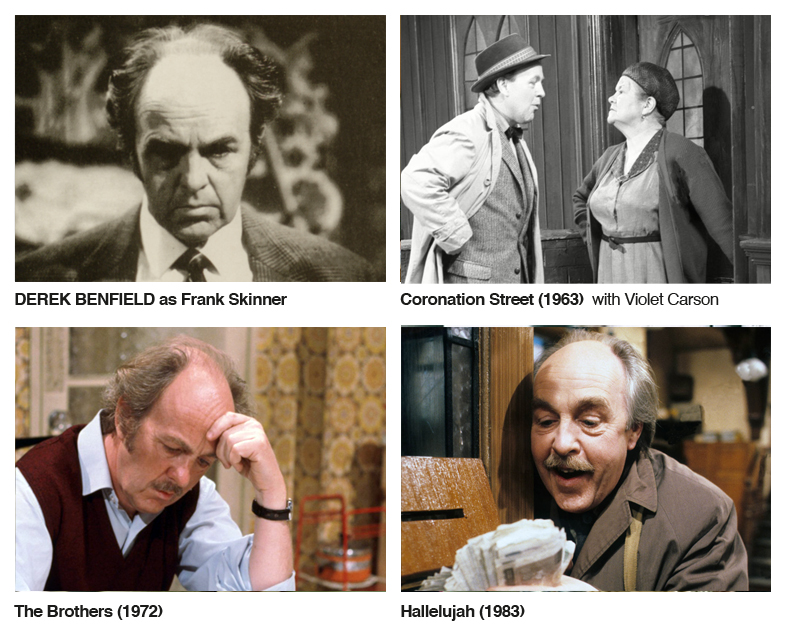 Frank Skinner is father to Liz and husband of Jean. He is a troubled man who suffered a mysterious breakdown during his time as a Naval rating stationed at St. Oswalds during the war. Frank often finds it difficult to grasp the unusual nature of the children's adventures and tries (unsuccessfully) to use his authority as Liz's father and Simon's guardian to put a stop to them. Like his wife, he is deeply suspicious of Commander Traynor despite having served under him during his time at the Naval Station. Often impetuous, Frank is nevertheless a devoted parent who wants only the best for his daughter.

Derek Benfield was born in Bradford, Yorkshire, the son of a journalist. He was educated ay Bingley Grammar School before serving in the army during the war. He then trained for the theatre at the Royal Academy of Dramatic Art where he won the Gertrude Lawrence Award for his performance in "French Without Tears".
Derek's first professional appearances were for Brian Rix in Ilkley and Bridlington after which he acted for many years in various repertory companies including Preston, Hull, Salisbury, Hornchurch, Croydon and Worthing. He also appeared in several plays in the West End.
Derek's first television appearance was in the serial "Return to the Lost Planet" for the BBC, after which he played countless roles in such popular programmes as "Emergency Ward Ten", "Dixon of Dock Green", "Three Live Wires", "Maigret", "Coronation Street", "Z Cars" and "The Likely Lads" as well as such TV dramas as "War and Peace", "The Apple Cart" and "Great Expectations". Since playing Frank Skinner in "Timeslip", Derek's face has become a very popular one from his many appearances on television including his role as Bill Riley in the long running BBC series "The Brothers", and more recently playing Patricia Routledge's husband in the popular crime drama "Hetty Wainthropp Investigates".
Derek is also a successful playwright. His many comedies have been widely produced throughout the world. These include: "Caught on the Hop", "Touch and Go", "Beyond a Joke" (in which the late Arthur Lowe appeared), "Bedside Manners" (starring John Inman), "Look Who's Talking" and "Fish Out of Water". Two new plays by Derek, "Funny Business" and "Second Time Around" are to be produced in the U.K. during 2003.
TV work includes:
Return to the Lost Planet (Serial) as Professor Bergman (1955)
Coronation Street (Series) as Walter Greenhalgh (1961-1969)
Three Live Wires (Series) as Higgenbottom (1961)
R3 as Tom Collis (Series One) (1964)
The Baron – "The Persuaders" as The Scientist (1966)
Timeslip (Serial) as Frank Skinner (1970)
Out of the Unknown – "Welcome Home" as Dr. Moore (1971)
Doomwatch – "Public Enemy" as Arnold Payne (1971)
The Brothers (Series) as Bill Riley (1972 – 1976)
Doomwatch – "Flood" as Dr. Ridley (1972)
Late Call (mini series) as Voice #2 (1975)
Rumpole of the Bailey as Albert Handyside (1978-1980)
Minder – "A Lot Of Bull And A Pat On The Back" as Brown (1980)
In Loving Memory – "The Outing" (1980)
Rumpole's Return as Albert Handyside (1980)
Hammer House of Mystery and Suspense – "The Late Nancy Irving" as Undertaker (1984)
Juliet Bravo – "Work Force" as Mr. Darcy (1984)
Remington Steele – "Maltese Steele" as Hector Tolouse (1984)
Casualty – "Crazies" as Leslie Davies (1986)
Love Jogging (1986) writer
Only Fools and Horses – "Little Problems" as Registrar (1989)
Casualty – "Street Life" as Eric Hogarth (1990)
Poirot – "The Cornish Mystery" as Dr. Adams (1990)
Lovejoy – "Angel Trousers" as Don (1992)
Mulberry – episode 2 as Alf (1992)
Hetty Wainthropp Investigates as Robert Wainthropp (1996 – 98)
Peak Practice – "untitled" as Fred Hargrave (1996)
After They Were Famous – "The Brothers" (2002)
also appearances in:
Dixon of Dock Green
Maigret
Z Cars
The Likely Lads
Film work includes:
Room at the Top (1959) uncredited
Crossplot (1969) as Man in cafe
I Don't Want to Be Born (1975) as Police Inspector
Remembrance (1982)
Lifeforce (1985) as Physician
Arthur's Hallowed Ground (1986) as Eric
The Girl (1986) as Janitor
Intimate Contact (1987) as Edgar
Writer
Caught on the Hop
Touch and Go
Beyond a Joke
Beside Manners
Look Who's Talking
Fish Out of Water
Funny Business (2003)
Second Time Around (2003)