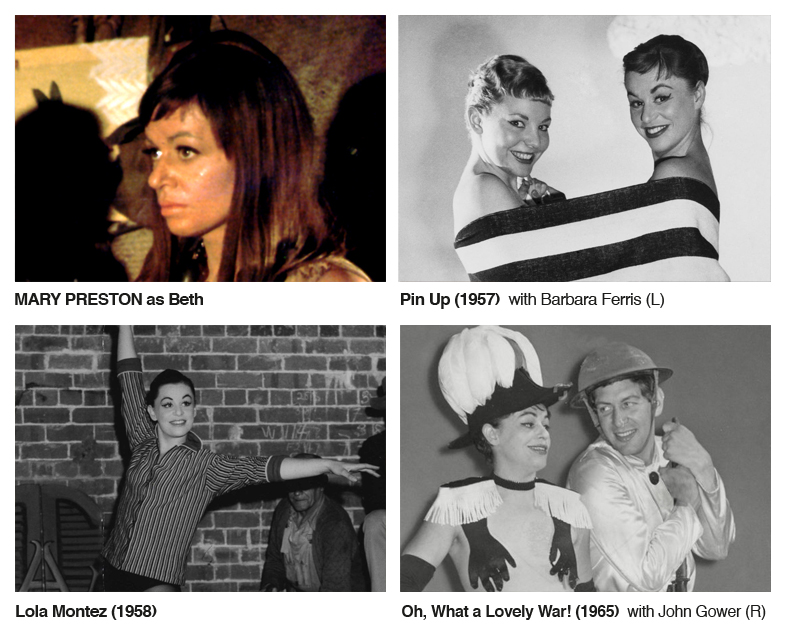 Beth is the future projection of Liz Skinner. Liz and Simon meet her twice in separate time phases. The first time, Beth is a cold officious person working on scientific research in the Ice Box in 1990. She fiercely resents the presence of the two children. She is also blindly loyal to the base's Director even though it is obvious to everyone he is undergoing some form of mental breakdown. As she finally realises that her beloved Director is not the super-man she believed him to be, she also finds the strength to confront her unrequited love for Larry.
In the jungle-like Britain of another projection of 1990, Beth is the rebelious leader of a community of young "misfits". She is also an artist and prone to frustrating fits of laughter during seemingly important conversations. She was once romantically linked with Controller 2957 (Simon's future self) but a computer told them they were not compatible and the two drifted apart.
One of Mary Preston's earliest theatre roles was as a starlet in the 1956 production of "Grab Me a Gondola." She eventually took over from the featured Joyce Blair whilst also understudying the production's star, Joan Heal. Moving to Australia, she then appeared to great critical acclaim one of the first and most famous productions of the musical "Lola Montez" in Sydney in 1958.
It was also unique in that the cast recording of the show was the first record to be issued in Australia in stereo and been reissued many times over the years, the last time being in 2000.
"Lola Montez" folded after an extremely successful run and Mary moved back to Britain where she went on to appear in many productions on the London stage (including the original Joan Littlewood production of "Oh! What a Lovely War" in 1963) She also made studio recordings of several popular musicals (including an LP version of "No, no, Nanette" with Margaret Burton).
To quote the Record Cabinet listing for "Lola Montez" at www.musical-theatre.net : "As Lola, the outrageous courtesan and one-time mistress of the King of Bavaria, the English actress Mary Preston almost certainly had the greatest success of her career. Anyone hearing her sing her first roof-raising number 'Let Me Sing! Let Me Dance!' must warm to this skirt-kicking performance, and the song is unlike anything else you will ever hear. In a short bitter sweet aria, 'A Lady Finds Love' Preston also displays a real ability to move us … but her name has almost been forgotten. On this evidence, she deserves better."
Timeslip seems to have been her only major role outside of a very healthy career in theatre musicals.
Mary died in the nineties.
LP Recordings featuring Mary Preston:
Grab Me a Gondola – Original London cast (1956)
Lola Montez – Original Sydney cast (1958) re-released on CD in 2000
Irma La douce – LP Studio cast (1963)
Oh! What a Lovely War – Original London cast (1963)
West Side Story – LP Studio cast (1966)
Sweet Charity – LP Studio cast (1967)
No, No, Nanette – LP Studio cast (1968)