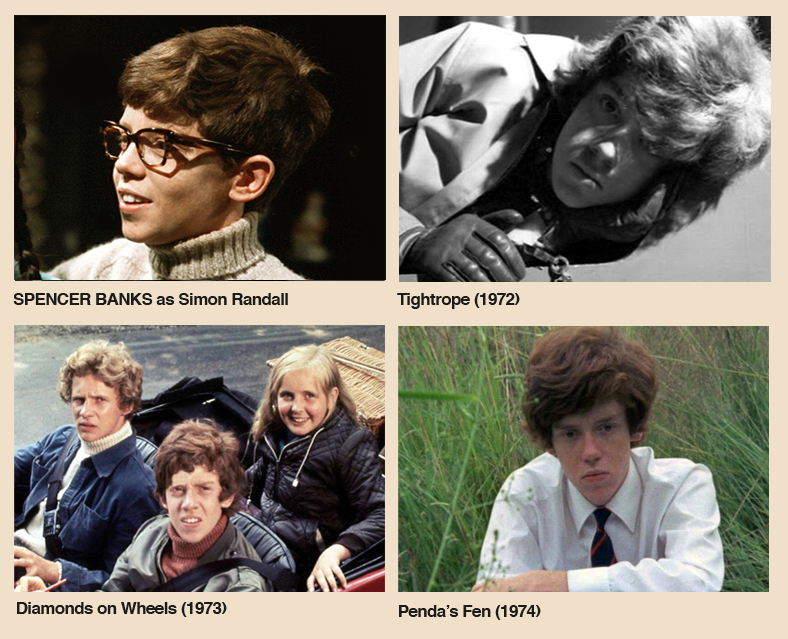 Simon Randall is a fifteen year old bookish young boy who recently lost his mother. At the time of the first adventure, he is holidaying with his father's best friend's family in St. Oswald. He has a keen, analytical mind yet is compassionate and grows to care deeply about Liz as their adventures draw them closer together.
Spencer Banks was born in Chesterfield, Derbyshire. He was still attending school when he heard that he'd been cast as Simon in "Timeslip".
His only major role previous to this was in the BBC2 classic serial "Germinal". Shortly after "Timeslip", Spencer found himself back at ATV working with essentially the same production team on the children's adventure series "Tightrope" playing opposite John Savident (now better know as Fred Elliot on "Coronation Street") As well as his roles in children's serials, Spencer also starred in the seventies Disney movie "Diamonds on Wheels" and went on to make huge critical impact in the acclaimed David Rudkin "Play for Today", "Penda's Fen".
For a time he was a member of the BBC Radio Drama Company and in recent years appeared on television in an episode of the BBC's daytime drama "Doctors".
In 2015 he was re-united with his Timeslip co-star Cheryl Burfield for a cameo in the independent horror film "Amityville Playhouse".
Film work includes:
Diamonds on Wheels (1973) as Charlie
Death on the Nile (1978) as Stephen
A Christmas Carol (1984) as Dick Wilkins
Amityville Playhouse (2015)
TV work includes:
Germinal as Jeanlin (1969)
Timeslip (serial) as Simon Randall (1970)
Tightrope (serial) as Martin Clifford (1972)
Softly Softly Task Force (2 episodes)
Lord Peter Wimsey (1973)
Play For Today – Penda's Fen (1974)
Village Hall (1975)
Churchill's People (1975)
Pennies from Heaven (1978)
The Georgian House (1976)
Wilde Alliance (1978)
A Man Called Intrepid (1979)
A Star For My Son (1979)
Minder – The Bengal Tiger (1980)
Cockles
Doctors – Who's Going To Know? (2002)
Member of BBC Radio Drama Company from March 1981 until September 1982